Era da un pò che non riuscivo più a trovare il tempo materiale di sedermi e raccontarvi delle nostre ultime avventure . Persa Ottina, è stato comunque difficile guardarsi avanti. I cockerulli, dolci lettori di anime, hanno sicuramente aiutato a lenire quel vuoto che comunque non si riempirà mai. La vita però è tiranna, e va avanti e altrettanto prepotentemente ha fatto capolino nelle nostre vite Lei...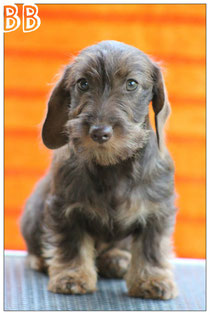 ... vi presentiamo BB!!!! Bassotta Baffuta, che continuerà a curare la nostra cockermania con la Basciottoterapia ;-)
In questi giorni abbiamo salutato anche la piccola Baby India [Worlewood Sundance x Born to Sing the Blues] che ha raggiunto il Garda con la sua nuova famiglia e una baby principessina come lei...buona vita insieme piccole!!! Eccola ritratta prima di partire insieme a nonna Nevuccia!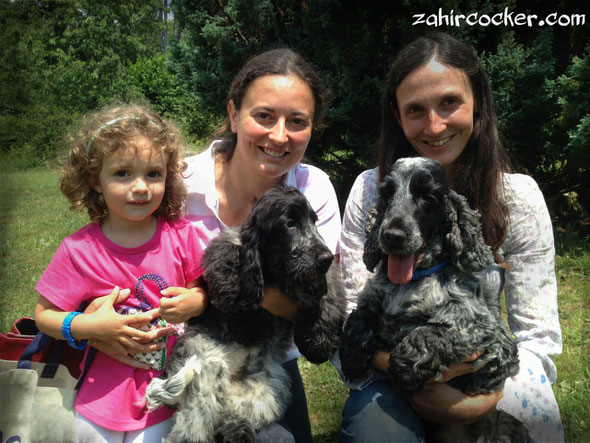 Tempo di compleanni, questo!!!
Tanti auguri alla fefossissima Fefè, che il 2 luglio ha compiuto 4 anni!!! Grazie ad Antonella ed Erica che se ne prendono così amorevolmente cura :-))
Tanti auguri a Dolly, Diego, Mafalda, Viola e Bowie che il 2 luglio hanno compiuto 1 anno!!!
Tanti auguri a MinimiccioSophie, Vica, Pepe, Dodo & Marchisio che il 10 di luglio hanno compiuto anche loro 1 anno!!!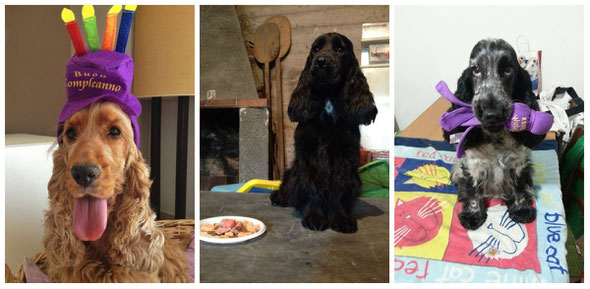 L'8 di luglio è stato il compleanno di Upola, Mimì e Gaia, il 18 Rakki compie 3 anni, Nevuccia ne compirà 6 il primo di Agosto e oggi Bengiolone compie 6 anni!!!! Auguri a tutti i miei pelosetti!!!!!
E per finire in bellezza, una splendida immagine della piccola Roma, Zahircocker Dream Team Crazy Beat [Manaca's Mona Lisa's Eyes x Early Bird vom Schloss Hellenstein] che ora vive felicemente in Grecia!