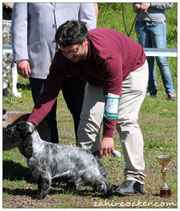 Decisamente in ritardo pubblico questa notizia...non me ne vogliate, ma ho ricevuto talmente tante foto dei miei piccoli da voi bravissimi zahir-muniti che hanno preso tutta la mia attenzione e mi sono distratta :D !
Anzi, siccome le vostre foto sono talmente tante e tutte così belle che non posso assolutamente scegliere quale pubblicare né fare post chilometrici che sicuramente vi annoiereste a leggere, ho deciso di creare una pagina nuova per ogni mia cucciolata, contenente la galleria fotografica di ciascun cockerullo, che di volta in volta aggionerò.
Per il momento ho creato la pagina con foto aggiornate dei Priscillotti, dei Millini, della nostra prima cucciolata - con nuove foto della Giallina, che insieme ai suoi fratellini compie 4 anni- e dei Cioccolini.  Piano piano farò tutto, promesso!!
Ma torniamo al titolo....domenica scorsa, 14 aprile, mentre io sono rimasta a casa a godere della prima vera giornata primaverile insieme al branco lungorecchiuto, Francesco è andato alla regionale di Nemi e ha portato a casa ottimi risultati!!
La nostra Odini 'Be My Butterfly Style of Mary', dopo un periodo di stop, ha conquistato il BOB (migliore di razza) e il BOG (migliore del gruppo).
Ma siamo ancora più contenti della nostra piccola minimicccio, Gaby, che ora si chiama Sophie 'You've Got The Heart of a Star', che si è comportata benissimo sul ring conquistando il secondo posto al podio del ring d'onore con tutti i giovani!! Bravissima Sophie e complimenti ad Andrea & Serena che la seguono così bene!