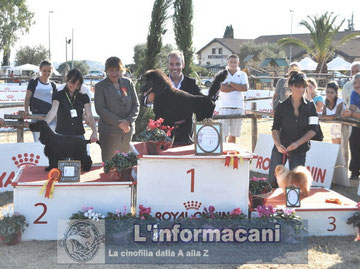 Con quasi un mese di ritardo aggiungo questa news, anche se è stata una bellissima giornata per i noi e i nostri cockerulli e avrei dovuto condividere questa gioia prima! Domenica 2 ottobre abbiamo presenziato l'expo internazionale di Roma, al giudizio della Sig.ra Maria-Luise Doppelreiter allevatrice di lunga data con l'affisso "vom Österreichring", con 4 dei nostri bimbi.
La piccola Sara, Manaca's Mona Lisa's Eyes, al suo debutto in expo, dalla classe intermedia è CAC, CACIB e miglior femmina!
Dieguzzo, Worlewood Sundance, è 1°ECC in classe giovani e miglior maschio giovane!
Kiara, Cast No Shadow Zahircocker è 2°ECC in classe giovani
E infine, la più piccola del gruppo sale sul podio: Odi, Be My Butterfly Style Of Mary, è 1°MP, Best Juniores e ris. di BIS JUNIORES!!!!